- Aiming for No. 1 Market Share in HACCP -

Ideal Products for Customers.
From our Founding to the Present Day.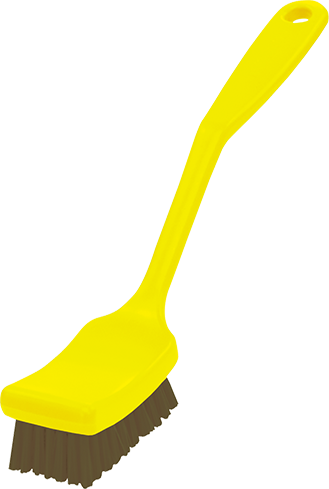 TAKASAGO started manufacturing garden brooms and Tawashi (scrubbing brushes) in 1916. Since our foundation, we have developed unique daily cleaning tools such as floor brushes, mops, and Zashiki (Japanese style room) brooms, and have continued to grow steadily while responding to customer feedback.

Currently, we are focusing on the production and development of cleaning tools for the food industry, mainly food factories following the full-scale HACCP mandate in June 2021.

Going forward, we will continue to contribute to food safety by leveraging our strengths in accurately understanding consumer needs and technology that reflects those needs in the production of products, with the aim of achieving No. 1 market share in the domestic HACCP cleaning tool market.
HACCP-compliant cleaning tools for food

TAKASAGO's
Business Domains

General
cleaning tools
HACCP-Compliant Cleaning Tools for Food Factories
We offer cleaning tools in five colors to support zones such as "workplace," "application," and "storage," a must requirement for HACCP-compliance. Our high-quality products deliver excellent cost performance even in small lots of various types.
General Cleaning Tools
We offer a wide range of products from standard items like everyday push brooms and Zashiki brooms, for which TAKASAGO is well-known as a long-established cleaning tool brand, to household cleaning tools such as mops, floor brushes, car wash brushes, and tawashi.
TAKASAGO's Strengths
We were one of the first companies in Japan to introduce the most advanced equipment from Europe and the United States. As a result, we have improved our manufacturing system to meet customer quality requirements and expanded our product lineup to meet various needs. At the same time, we also actively train machine operators in the use of our brush bristle insertion machines that require sophisticated expertise.

We are proud of TAKASAGO's core strength as a cleaning tool manufacturer. Our production system combines our facilities and our staff, both of which are essential for high-quality manufacturing.
Product Development Based on Customers Feedback

Customer feedback is a critical element of our business. We use customer compliments to further refine our product strengths and use concerns as a key for product development. We appreciate criticism of our weakness and it inspires us to further improve our products. This mindset is shared among all TAKASAGO employees.

We will continue to develop attractive products, seeking to reflect feedback from many customers in our offerings.

Product Manufacturing with an Excellent Balance of Quality and Cost

Our strength lies not only the dirt removal capabilities and ease of use of our products, but also our insatiable pursuit of quality in areas such as "no bristle shedding" and "no breakage". The TAKASAGO brand is driven by customer comments such as "TAKASAGO products do not cause us any problems." In addition, our well-balanced manufacturing system allows us to price our products competitively, another factor that our customers highly appreciate.
Various Types, Small Lots, and Customizing are Available

TAKASAGO has one of the most extensive product lineups among domestic and overseas manufacturers. You are sure to find a suitable cleaning tool even if you need to clean a machine or part with a complicated shape. Since our products are domestically manufactured, we can flexibly meet the needs of small lots, customizing, and made-to-order products. We cherish working with the spirit of "Everything we do is for customers".

Always Fully Stocked, Reliable, and Speedy Delivery

We minimize products shortages as much as possible through flexible production and inventory adjustment based on our domestic production. Unlike products made by overseas manufacturers, where it can be difficult to adjust inventory due to issues such as the need to order products from overseas, we promise to deliver products to you reliably.
Reliable Support That Only a Domestic Manufacturer Can Provide

We provide you with full support for our products. In the unlikely event of a problem, we promise to respond promptly and cooperate as much as possible to investigate the cause. We rarely make major changes to product specifications, enabling you to use our products for a long time with peace of mind.

Sustainable and Environmentally Friendly Manufacturing

We strive to consider the natural environment as we provide services for customers. By implementing "Reduce," "Reuse," and "Recycle" activities, we pursue manufacturing that is friendly to both humans and the environment.
TAKASAGO's Business Vision
Provide Safe
and Secure Japanese
HACCP-compliant
Cleaning Tools to
Asia and the World.

Aim for No. 1
Domestic Market
Share in HACCP-Compliant Cleaning
Tools.
By continuing to pursue the global standard of "TAKASAGO QCD,"
we will increase customer satisfaction and provide further added value.
Origin of TAKASAGO Brand

Our company name and trademark "TAKASAGO" were designed based on the tradition of TAKASAGO in 1912.

The name TAKASAGO originates from the song "Takasago" by Zeami, which is based on the "Legend of Takasago Jouuba." The story of Takasago is about the prosperity of the country and its people, and it has been regarded as a symbol of longevity and marital harmony since ancient times as it contains blessings for world peace.

At that time, brooms were strongly recognized in Japan as an indispensable part of the home. Therefore, we decided on the name and trademark "TAKASAGO" as being most appropriate for brooms. "Contribute to national prosperity, love for humanity, health and longevity through the manufacture and sale of cleaning products." This is the pure thinking behind "TAKASAGO."