HACCP is Becoming Mandatory
- What TAKASAGO can offer -

In June 2021, the revised Food Sanitation Act came into force, requiring all businesses handling food to introduce and operate HACCP.

TAKASAGO started planning and developing HACCP-compliant cleaning tools ten years ago in anticipation of the trend of HACCP measures that had begun in Europe and the United States. Having one of the few domestic production systems in Japan, we have worked to improve quality and expand the lineup of our products.

TAKASAGO's cleaning tools protect food safety. With our unique HACCP measures, we continue to support many customers involved in the food industry.
What is "HACCP"?
HACCP is an acronym for Hazard Analysis and Critical Control Point. It is a global standard food safety management system that improves food safety by identifying hazards such as food poisoning and foreign matter contamination at food manufacturing sites and by managing important processes.

HACCP facilitates monitor and record each process. In the unlikely event of a food accident such as food poisoning or contamination, any problem in a process can be found, enabling quick and reliable investigation of the cause.
HACCP Management Example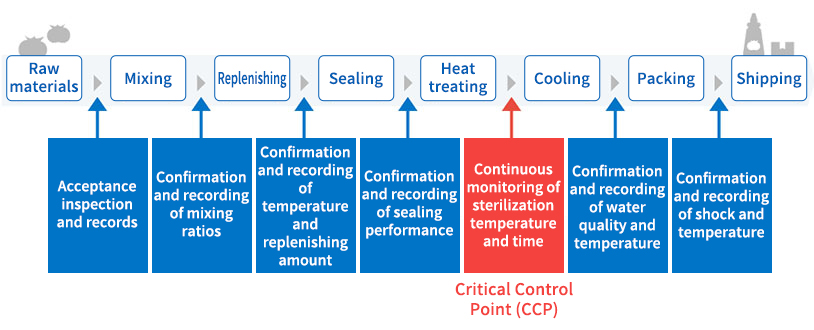 Source: "HACCP Management Examples" on the Ministry of Health, Labour and Welfare website "What is HACCP?"
Reasons to Choose TAKASAGO's HACCP-Compliant Products
Because TAKASAGO brushes are easy to use with less bristle shedding and make it easy to find bristles even if shedding occurs, they strongly support cleaning work in HACCP facilities. TAKASAGO has been developing products as a frontrunner for a long time in anticipation of HACCP becoming mandatory. As a result, TAKASAGO is chosen by customers in many different fields.
Less Bristle Shedding and High Durability
Many customers tell us they are able to use our cleaning tools without any problems for long periods. We believe that the most important thing in HACCP is not to cause foreign matter contamination, that is to say, to make sure that brush bristles do not fall out.

Through careful attention to the selection of bristle materials, cutting methods, and the method of fixing bristles to the base, we have developed products with less bristle shedding. In addition, our pursuit of "no spreading or breaking of bristles" has made the product more durable. The essence of the TAKASAGO brand is "Truly safe to use".

*There is a recommended replacement period for brushes. For details, see.

Brush Replacement Guidelines
A Wide Variety of Colors for Each Zone

Our products are available in up to five colors to be used according to the manufacturing process (zone) required for HACCP compliance. The colors are intuitively identifiable so it is very easy to apply them on site.

Some products such as floor brushes and water wipers are available in up to 25 color variations by changing the grip attached to the aluminum handles.
Triangular Shaped Fibers for Excellent Dirt Removal
We have developed a special fiber with a triangular bristle cross-section and adopted it as the bristle material for our brushes, significantly improving dirt removal during cleaning. Also, in the unlikely event that the bristle material becomes mixed in to a food product, it is easy to distinguish from other brushes with great traceability.
The World's Only "Metal-Detectable Brushes" Available in Four Colors
We offer "Metal-Detectable Brushes" using a special bristle material that reacts to metal detectors. It is no exaggeration to say that TAKASAGO is the only company offering this product in four colors in the world. We work daily to achieve even better quality by maximizing the metal content in the bristle material.
Easy to Store and Dry for Reduced Bacteria
We have studied the position and orientation of the hook holes for each product and have taken innovative steps to ensure easy storage. We have also adopted PBT, a material with extremely low water absorption and excellent quick-drying properties for the bristle material. As a result, our products dry quickly after washing to prevent the growth of bacteria.
Improvement Proposals and After-Sales Support

We propose products in anticipation of replacement time
We regularly conduct questionnaires on usability to create better products
Please feel free to contact us if you have any concerns or complaints during use.
Proposal Examples of HACCP Products
Customer Issue

"We would like to have some advice on cleaning tools since we are starting a full-scale HACCP operation."
(Food manufacturer in Tokyo)

Our Proposal

We proposed changing the colors of the cleaning tools for contaminated and clean zones. Using colors that are easy to distinguish from foodstuffs like blue and yellow brushes made management much easier.
Customer Issue

"We are still using old-fashioned scrubbing brushes to wash our machines. We have long been concerned that the brush bristles easily fall out. We are considering whether to change our brushes for HACCP operation."

Our Proposal

Giving priority to feedback from workers who told us that the old-fashioned brushes fit into their hand well and were easy to use, we proposed the TAKASAGO Color Tawashi (scrubbing brush), an HACCP-compliant product with high durability. Customers appreciate the special shape of this product for its ability to drain water and inhibit the formation of bacteria.
Customer Issue

"There is a very small gap between our machines and the floor. There are also several machines (tubes) with unique shapes. We think that cleaning may be insufficient with the cleaning tools we currently use. We consulted with the manufacturer about it but were told that customizing tools is difficult, so we don't know what to do."

Our Proposal

After a site survey to determine whether TAKASAGO's existing products could be used, we found out that our "Under-machine brooms" fitted perfectly for several areas. However, there was one area where the broom did not fit. To solve this problem, we developed a custom brush based on our existing "Toothbrush type brush."
Customer Issue

"We have many female staff, and they complain that our current brooms are too big and heavy and are difficult to use. In fact, some areas are often left uncleaned."

Our Proposal

We proposed TAKASAGO's original lightweight and compact "One-handed broom." The customer told us that usability improved considerably. The customer also appreciated the strong sweeping power and the compactness of the product, making it easy to store.