About Us
Company Name

TAKASAGO Corporation

Established

October 1950 *Founded in May 1916

Capital

15 million JPY

President and Representative Director

Noriyasu Yoshida

Number of employees

49 (including 17 full-time employees)

Location of Head Office

2-2-3 Chuo, Edogawa-ku, Tokyo 132-0021, Japan

Contacts

Phone: +81-3-3652-5136 FAX: +81-3-3652-5139

Web site

https://www.shidapalm.co.jp/

Main bank

- Komatsugawa Branch of Mizuho Bank
- Komatsugawa Branch of Mitsubishi Tokyo UFJ Bank

Advisor tax accountant

Kodato Tax Accountant Office

Corporate Memberships

Tokyo Chamber of Commerce and Industry

Business Purpose

- Planning, manufacturing and sales of cleaning tools
- Planning, manufacturing and sales of cosmetics products

Business Items

Garden brooms, Zashiki brooms, Mops, Floor brushes, Car washing brushes
Dust cloths, Daily cleaning tools, Commercial cleaning tools, and miscellaneous goods
*as of August 1, 2021
Helping People Live
Clean and Prosperous Lives.
We help people live clean and prosperous lives through product development.
We maintain high quality and create products that satisfy and resonate with customers.
We aim for the happiness of our employees, the satisfaction of our customers, and the prosperity of our business partners.
TAKASAGO was founded in May 1916 as a manufacturer of garden brooms and "Tawashi" (scrubbing brushes). Since then, we have been engaged in unique planning and development for a number of daily cleaning tools including floor brushes, mops, and "Zashiki (Japanese style room) brooms", and have grown steadily.

We have accumulated a great deal of know-how in accurately identifying user needs in daily life, together with the capabilities to reflect those needs in our planning and development. We are very proud of our know-how and high technological capabilities.

With "Helping People Live Clean and Prosperous lives" as our management philosophy, our planning capabilities, and our reliable technologies cultivated over many years of history, we can support people's daily lives in harmony with society and the natural environment.

We will further improve our planning and development and technical capabilities to meet changing needs of the times and will make additional efforts to develop as an effective company that offers customer engagement and satisfaction.
History
May 1916

Shigeharu Horii opened 'Horii Shokai,' a manufacturer of garden brooms and Tawashi in Nagoya City

October 1950

Limited Partnership Yoshida Seisakusho renamed Nihon Shida Palm Industry co., Ltd.

October 1970

Newly established Gunma Plant in Annaka City, Gunma Prefecture

August 1987

Incorporated Sri Lanka joint plant

1999

Closed Gunma Plant

2002

Started mail-order business

2005

New warehouse completed

2009

Started a new business of high-performance brushes for food factories.

2010

Inauguration of the fourth president (Noriyasu Yoshida)

2011

Started new graduate recruitment

February 2013

Changed the company name to TAKASAGO CO., LTD.

November 2014

First introduction of large-scale equipment

2016

100th Anniversary Appreciation Event

November 2017

Second introduction of large-scale equipment

December 2018

Third introduction of large-scale equipment
Origin of TAKASAGO brand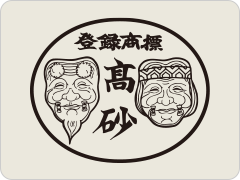 Our company name and trademark "TAKASAGO" were designed based on the tradition of TAKASAGO in 1912.

The name TAKASAGO originates from the song "Takasago" by Zeami, which is based on the "Legend of Takasago Jouuba." The story of Takasago is about the prosperity of the country and its people, and it has been regarded as a symbol of longevity and marital harmony since ancient times as it contains blessings for world peace.

At that time, brooms were strongly recognized in Japan as an indispensable part of the home. Therefore, we decided on the name and trademark "TAKASAGO" as being most appropriate for brooms. "Contribute to national prosperity, love for humanity, health and longevity through the manufacture and sale of cleaning products." This is the pure thinking behind "TAKASAGO."
Taisho

Early Showa

Middle Showa

Late Showa
Map & Access
TAKASAGO Corporation
Address

2-2-3 Chuo, Edogawa-ku, Tokyo 132-0021, Japan

Access

8 minutes' walk from "Keiyo Kosaten" bus stop of Toei Bus (Nishiki 25/Shinko 21) after getting off at "Funabori Station" on the Toei Shinjuku Line
6 minutes' walk from "Edogawa Kuyakusho-mae" bus stop of Toei Bus (Shinko 21/Shinko 29) after getting off at "Shin-Koiwa Station" on the JR Sobu Line.