Cleaning Tools
(TAKASAGO's business)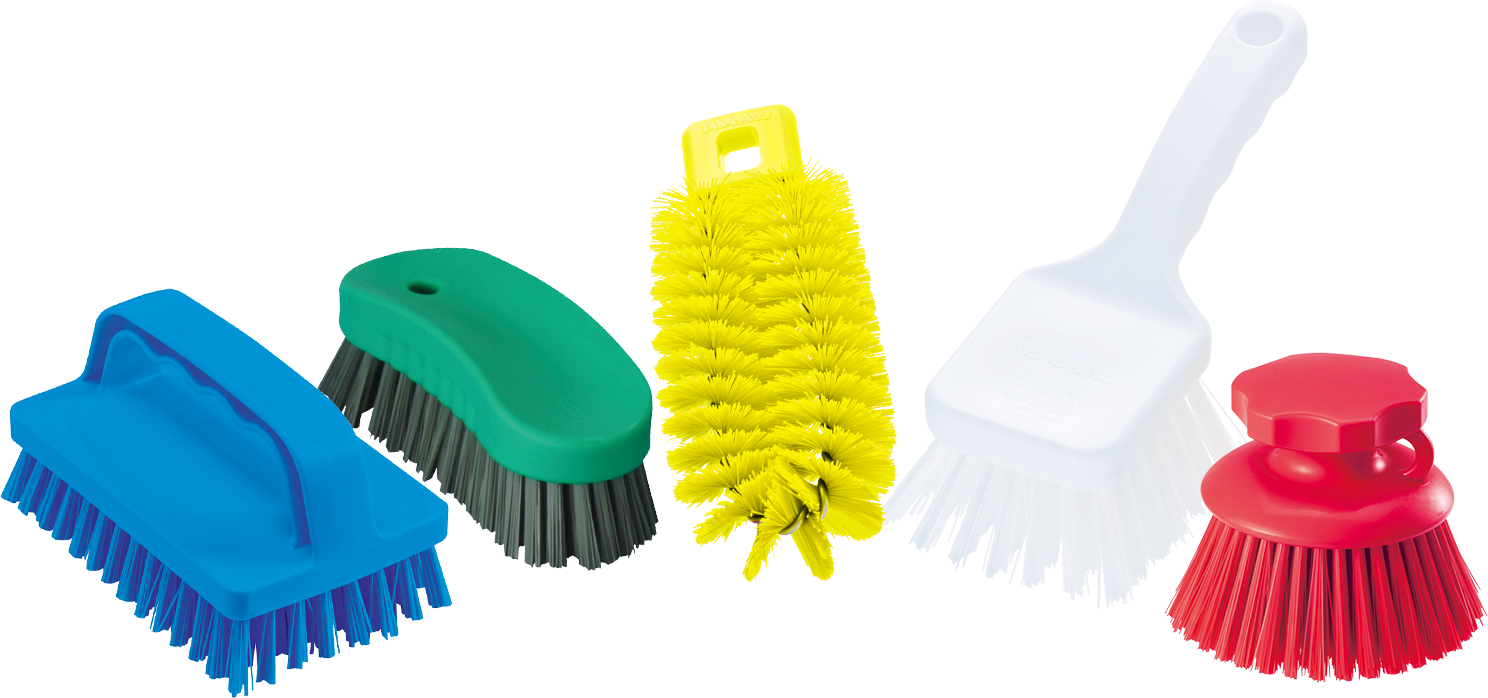 We have perfected
our easy-to-use
brushes that feature less bristle shedding
Five

HACCP-

compliant

colors

to

prevent contamination

The HP/HPM series are made in Japan and are designed to ideally fit to the average Japanese body shape. They are compact and light so women can use them with ease. Our uniquely developed bristles have excellent cleaning power. With these advantages, our brushes offer supreme usability and dirt-removing capabilities.
In-house
manufacturing:
Made in Japan

The only
metal-detectable
color brush

Highly customizable
and special orders
available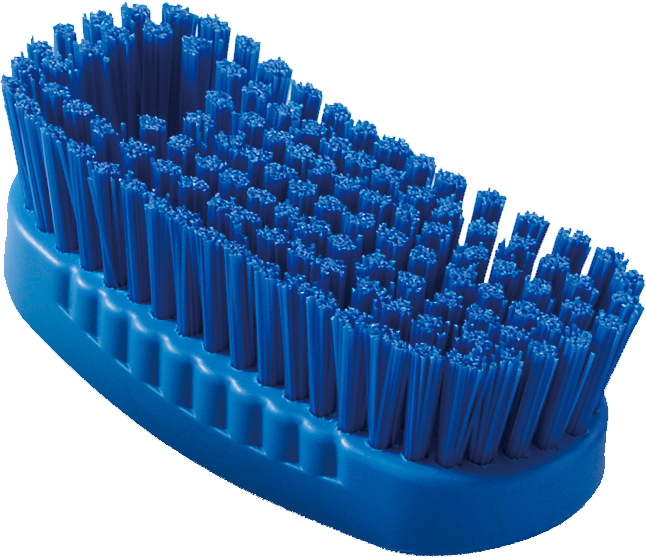 A new idea for prevention of contamination:
Less bristle shedding,
no breakage, and traceable
While bristles made of natural fibers have a higher risk of contamination due to their tendency to shed and break, TAKASAGO, with its reliable technology and advances achieved through domestic production, has succeeded in developing and manufacturing brushes that offer extremely low probability of bristle shedding or breakage. We also have put robust traceability measures in place in the unlikely event that bristle shedding occurs. Here we describe our commitment to detail, from material selection to manufacturing.
Carefully selected

bristle materials

We have chosen PBT (polybutylene terephthalate) as the bristle material. Compared to PP (polypropylene), which is commonly used as a bristle material for cleaning products, PBT has less fiber absorption and higher resilience. This gives the bristles a high level of durability that prevents them from becoming kinked even after long-term use, and we have succeeded in developing a bristle material that can withstand use for two hours a day for three months.

We use our own original triangular-shaped bristles, which are unlike bristles from any other manufacturer. In addition to improved dirt removal performance, in the unlikely event of contamination, it is easy to distinguish our bristles from other brands, making them easy to trace.
Carefully selected

bristle plate

The plastic where the brush bristles are fixed to the brush is made of virgin material, manufactured exclusively from new materials without the use of recycled materials. This means that the plastic may bend, but it will not crack or break.
Carefully selected

fixation method

We precisely control the number of bristles, the depth of fixing, and the size of the holes. The root of the brush bristles is also firmly secured with a clamp to minimize bristle shedding.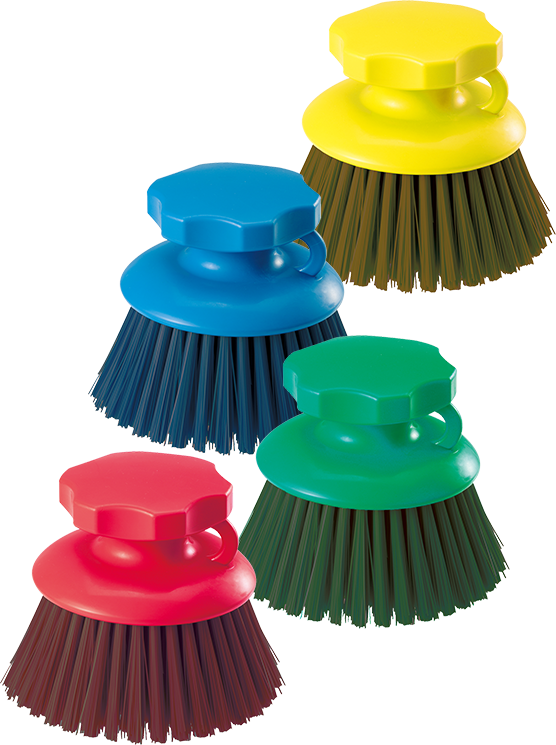 Five colors that cover all HACCP zones
Our unique metal-detectable color brushes are also available as an option.

We offer up to five different color variations for zoning of contaminated and clean areas, which is essential for HACCP compliance in factories and for classifying work areas, applications, and storage of cleaning tools. We have received favorable feedback from our customers for making the bristles and the plastic the same solid color. Common comments include, "The colors stand out," "The colors make it easy for us to keep things in order," and "The colors make it easy for us to give instructions to international staff."

Four different color lineups of metal detectable brushes with special bristles with metal added to them are also available. TAKASAGO is the only brush manufacturer that makes HACCP compliant and metal detectable brushes.
Durable and safe
Domestic manufacturing:
Made in Japan

We manufacture our products in Japan in order to meet the stringent requirements of our customers, which are mainly publicly listed companies and major corporations. Based on the premise of creating products that reflect customer feedback and satisfy customers in terms of both quality and cost, we boast an extensive lineup of products, all of which can be produced in small lots, that is unmatched by other companies in the industry. We also provide a level of after-sales service that only a domestic manufacturer can achieve.
Lightweight, compact, and easy-to-use

Brushes designed for western people are too big and heavy, and are often difficult for Japanese people to use. Domestic manufacturing enables us to design brushes that ideally fit the average Japanese body shape. We receive positive feedback from women that our brushes are tough, lightweight, compact, and easy-to-use.

Our goal is zero delivery failure

We have established a thorough quality control system to achieve brushes with maximum prevention of contamination to ensure "No bristle shedding, no breakage, and traceable." We conduct inspections at the material purchasing, manufacturing, and shipping stages, with double inspections at the shipping stage. We are committed to delivering you our products with minimum delivery failure. This is our promise with you.
Safe and trusted quality information disclosure

We can provide an SDS (safety data sheet) upon product shipment. This includes information on brush content, hazard information, handling precautions, and environmental impact to show that the chemical components are handled safely and appropriately.

Highly customizable and special orders available

We can customize brushes by adjusting the type and hardness of bristles and the length of the handle to suit the intended use and can also custom-build products for any items you want to clean. We have handled many custom orders and received positive feedback from many of our customers such as, "Dirt removal has improved," "the brush fits the item to be cleaned more easily," and "cleaning time has been reduced". Our customized and special-order products are a great option to improve your work efficiency.
Customers love

our two best sellers
Our two best sellers, "HP Hand Brush L /HPM Magnetic Hand Brush L" and "HP Tawashi / HPM Magnetic Tawashi" series are essential when discussing TAKASAGO products. We will focus on these two products in the next section and look in detail at how they are designed.

Delivers comfortable scrubbing and can be used anywhere

HP Hand Brush L / HPM Magnetic Hand Brush L

The unique grip shape of the brush base is thicker at the tip and thinner at the rear. This provides the perfect grip and fit. The design allows the user to accurately transfer their strength to the item being cleaned. This provides outstanding cleaning comfort and dirt removal and also reduces the load on the user's body.

Benefits

Uniquely designed grip enables effortless scrubbing
Uneven sides of the brush base prevent slipping
Thick plastic brush base gives higher bristle durability
Bristles are hard at the tip and soft at the rear for stronger cleaning power and comfort
Soft or hard bristles can be chosen depending on the application
The hook hole on the outer side makes the brushes easy to store and dry

Good draining, reduced bacteria, and high functionality

HP Tawashi / HPM Magnetic Tawashi

Natural fiber Kamenoko Tawashi have been used in Japan for centuries. They are often used to clean kitchens and bathrooms at home, but are not recommended for use in food factories because the natural fiber bristles are prone to shedding and breaking, causing contamination.

TAKASAGO has adopted PBT (polybutylene terephthalate) for the bristle material as well as the brushes, making it possible to use them in food factories. Our unique torsion-fixing process provides a durability not found in conventional Kamenoko Tawashi. The easy drainage structure and hook holes allow for easy storage and drying.

Benefits

Lighter than Kamenoko Tawashi and can be easily handled by women
Highly resilient and kink-resistant PBT is used for the bristles
PBT is less absorbent and dries easily
Unique torsion-fixing process ensures less bristle shedding
Unique shape that prevents water accumulation in the core
The hook hole on the outer side makes the brushes easy to store and dry
OUR PRODUCTS
HACCP-compliant cleaning tools
Hand brush

Tawashi

Handled brush

Tiny brush

Pipe cleaner

Aluminum handle

Broom

Floor brush

Water wiper

Bucket / dustpan

Heat-resistant brush
HACCP-compliant cleaning tools (magnetic)
Magnetic tawashi

Magnetic hand brush

Magnetic handled brush

Magnetic tiny brush

Magnetic bottle brush

Magnetic broom /
Magnetic floor brush
General cleaning tools
Indoor broom

Outdoor broom

Other brooms

Floor brush

Water wiper / window tools

Mop

Brush / plunger

Car washing brush

Toilet brush

Other brushes